October 2, 2016 by Kelly + Erinn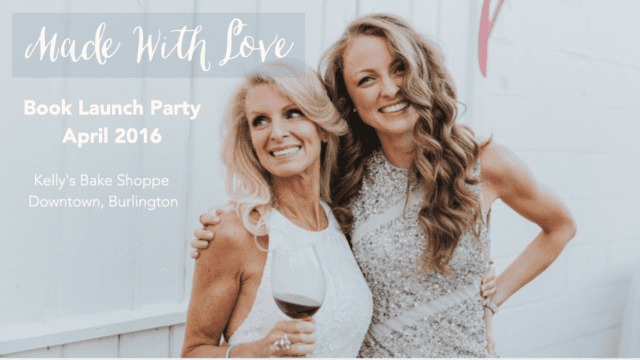 This event was simply epic for us. Besides being a celebration of our book being launched, it was also a celebration that our cookbook had, a few days prior,  made TWO national best seller lists: The Toronto Star and the Globe and Mail. What an honour for Erinn and I!
Thank you to all of you for your love and support for what we do. Thank you for giving us so much love, we get to filled up to motor on more and build more healthy destinations for you to enjoy.
A very special thank you goes to our families that have surrounded us both, daily, with a cocoon of love and inspiration.  This very act has enabled us to soar to heights we had no idea we were ready to reach.
Enjoy some photos of the evening.
xoxo
With Love, Kelly and Erinn
From Penguin Random House:
In Made with Love you will discover delicious, accessible, plant-based recipes for every meal and moment of the day. The recipes come from Kelly and Erinn, the mother and daughter duo behind Kelly's Bake Shoppe and Lettuce Love Cafe. With more than 100 recipes for award-winning baked goods and savory favorites, Made With Love has something for everyone! From Chocolate Monkey Pancakes for breakfast, to Cumin-scented Corn Bread and Eggless Quiche for lunch; to Banana Butterscotch Loaf and Lemon Scones as your afternoon treat, or classic Chocolate Cake and Dulce de Leche Cupcakes for special occassions.

As you leaf through the pages of this book it's as if you're walking through the door of Kelly and Erinn's beautiful bakery...and then leaving with all of their secrets! Kelly and Erinn share the story behind their decision to eat a plant-based diet, including the health benefits and the basics you need to get started. Their recipes are super-simple, and all the ingredients are readily available in regular grocery stores. Their recipes are plant-based and gluten-free, using natural, plant-based ingredients, so that even those with extreme food intolerances can make their decadent baking and delicious meals at home.

Kelly and Erinn are stars on the rise: gorgeous, healthy, successful entrepreneurs who always live up to their commitment to "Bake You Happy!". You will love this cookbook, filled with easy-to-prepare, healthy recipes, suitable for everyone.
grab your own
Itching to try out a few of the recipes yourself? Grab your copy of the Made With Love cookbook at one of these fine retailers, or simply purchase online, here.
Join Kelly's Tribe
For all things tasty and newsworthy.
Your life will never be the same.
FREE recipe, Entice people with something….
Recent Posts