March 30, 2017 by Erinn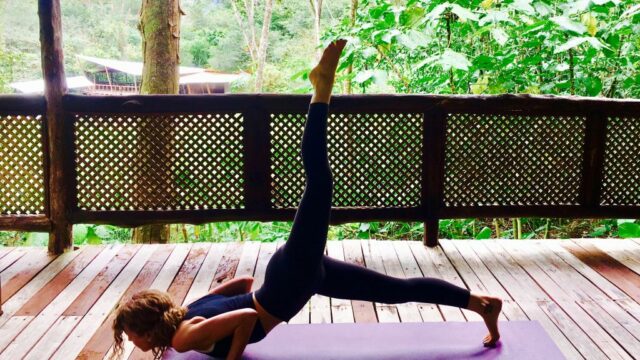 I just got back from travelling Costa Rica on my own and had an amazing time. Though some people are nervous to travel alone, it's an amazing experience that everyone has to try at least once in their lifetime. If you plan the right way, stay safe, and know what you're doing, taking a solo trip is incredible. After making my way through the rainforest I've put together this guide for you so that you'll have everything you need to tackle the globe on your own!
Here are a few things you can't leave home without
A great tour guide.
I was so fortunate on my trip to Costa Rica to have my now, dear friend, Andrea from Souljourn Adventure guide me through the first 6 days of my trip. She took me to all of the best spots in Costa Rica and showed me all of the local spots and hidden gems. I was so impressed by everything she did for me during my time with her! I would recommend anyone going to Costa Rica for a wellness inspired trip, or any trip for that matter, to get in touch with Andrea and let her help make your trip magical.
Know where to go.
Do your research and find out where you're going before you get there. What are the local customs? What is the currency? Research travel tips, places to eat, where to stay, and how to get around. Make sure you find out all this information before you leave for your trip or you could end up in a situation you didn't plan on.
Goods!
Waterbottle: I bought an incredible waterbottle for my trip called the GRAYL. It's not cheap but it's so worth it. Just fill it up and use the filter, then just like that you have purified, clean water that is free from 99.9% of contaminants.
Safety first: I brought pepper spray (because my Mom wouldn't let me leave without it) and a door stop alarm with me. Many hotels don't have proper bolt locks on their doors, making it easier for someone to get in. These items are a must for female solo travelers!
Waterproof case: When you're travelling in Central America (and anywhere for that matter) there's a good chance that you'll be around water. The last thing you want is to have your phone get water damage in a foreign country. This case was great and fit my phone perfectly.
Selfie stick: Enough said. I found this great one form Indigo that I LOVED!
Immune health: You never know what will happen, and especially when going to a foreign country, it's better to be safe than sorry!
Important Documents: Don't leave home without your passport and travel documents (of course!). I also took photocopies of my credit cards, passport and nexus pass. I kept a copy with me while traveling and I left a copy with my family. That way, if your passport gets lost or stolen it's much easier to get a new one in the country you're travelling in.
Laundry detergent: I bought single use laundry packs for when I really needed to do some laundry. It can be challenging finding a place to do laundry in a foreign country, so instead of waiting for all of your clothes to be dirty, think ahead!
Setting the Mood: I always make an effort to bring a soy candle and some incense with me when I travel. I like to have the place I'm staying feel like home, and that's the best way for me to do it!
Day bag: I love having a small bag to throw all of my essentials in for the day ahead! My camera, phone, hat, sunscreen, copy of my passport, my waterbottle, cash and credit cards all fit beautifully in my lululemon back pack.
Towel: A quick dry, travel towel is key. I used mine at the beach and in my hotel when I didn't have a towel provided. They're great for traveling too because they don't take up too much room.
Wall charger: I bought a great charger that plugged into the wall to give me some extra outlets as a lot of hotel rooms only have one or two outlets. I was able to charge my computer, phone, camera and everything else all at once which was really helpful.
Good Reads: I brought Gabrielle Bernstein, the Universe has your Back and also Big Magic by Elizabeth Gilbert with me to Costa Rica. Both books are so incredible, I really can't recommend them enough for anyone wanting to change their lives and to live a more authentic and pure life. 
Camera: I love my iPhone for most of my photos, but there's still nothing like taking photos on a "real" camera. I love my Sony and would highly recommend it to anyone who loves taking amazing pictures. It's on the pricey side, but it's an investment and something you'll hopefully have for the next few years. The quality of the pictures is just phenomenal.
And the most important thing to bring when traveling is a credit card, in case you forget something on your list 😉
Join Kelly's Tribe
For all things tasty and newsworthy.
Your life will never be the same.
FREE recipe, Entice people with something….
Recent Posts