Cupcakes Delivered to Richmond Hill
We deliver to Richmond Hill everyday and our ordering process is quick, easy and painless!
Not just cupcakes, but brownies, cookies, cookie sandwiches, muffins and scones.
Whether an Anniversary, Birthday Party, Engagement, Bachelorette Party or just a treat for you and your family - our freshly baked, tasty treats are delivered to your door quickly and with ease.
All additional customizations are available on our online store under the 'Special Occasion Boxes'
Please note: we don't take orders via email.

Richmond Hill cupcakes delivered with care.
We will always endeavour to do our best to ensure a perfect delivery to your home. Our drivers are very professional, courteous and cautious.
Delivery times are between 11am and 7pm. We cannot guarantee an exact delivery time but we can promise delivery on the day booked via our online store.
All of our products are baked fresh, in house, by hand, throughout the day everyday to ensure freshness and each tasty treat is plant based, gluten-free, peanut-free, dairy-free, egg-free, and vegan.
Ready to place your order? Simply order through our online store:
Not ready quite yet? Have some questions? Please feel free to call our store direct at (905) 333-1400.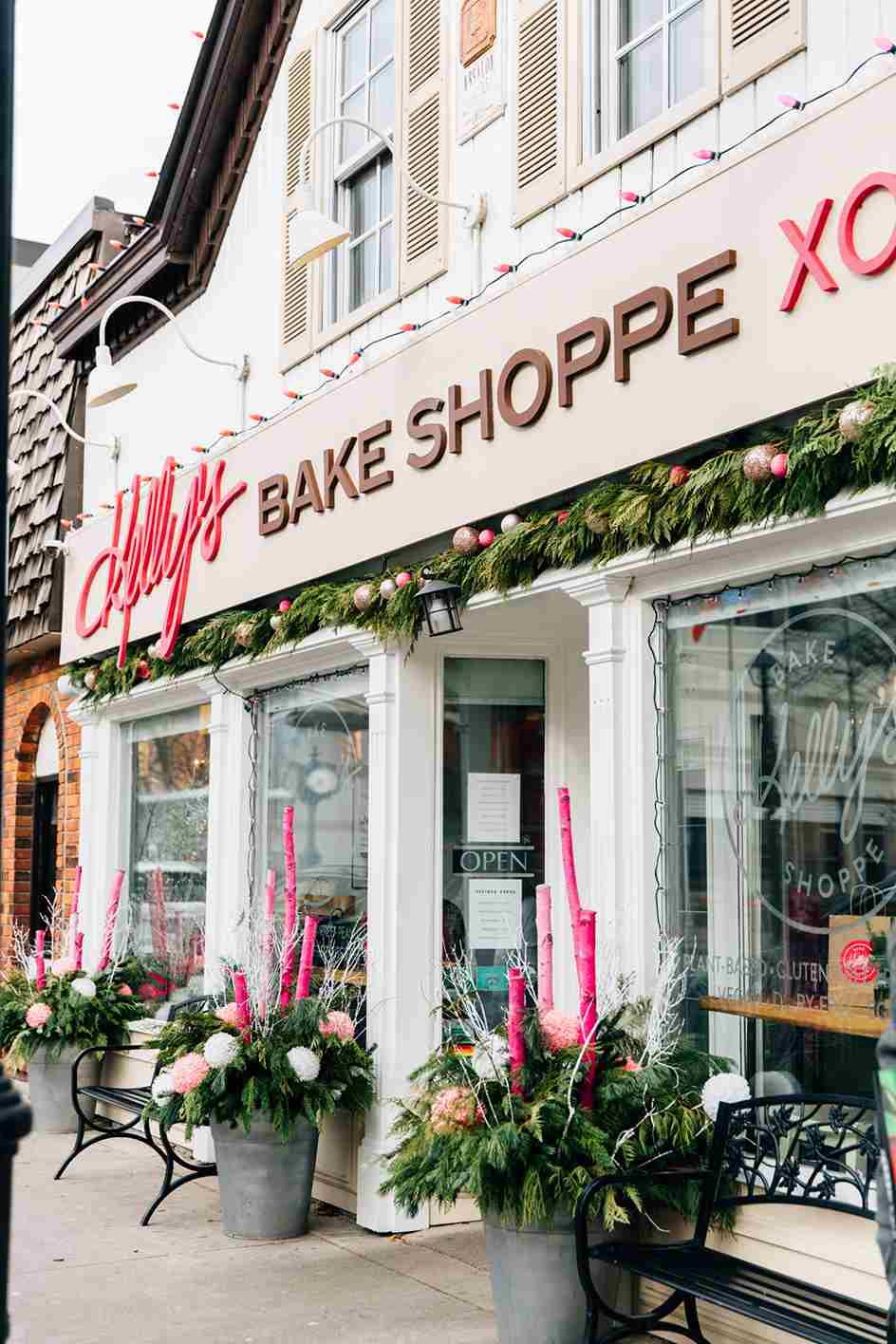 Richmond Hill Delivery FAQs.
HOW LONG WILL IT TAKE TO GET MY ORDER?
Our deliveries arrive between 11am-7pm.  Tuesday to Saturday only (may exclude some holidays).
IS THERE AN ADDED COST FOR DELIVERY TO RICHMOND HILL?
Yes. It is a $20 flat rate for delivery. However for larger orders please feel free to call us directly!
DO YOU DO WEDDINGS AND SPECIAL EVENTS IN RICHMOND HILL?
Yes we do! We offer a selection of wedding specific treats, and we kindly ask that you email us at events@kellysxo.com.
Please note that we don't offer multiple tier wedding cakes. We specialize in cupcakes and smaller style cakes.
ARE YOUR RICHMOND HILL DELIVERY BAKED GOODS MADE FROM SCRATCH?
Absolutely! Everything is made from scratch! We lovingly make all our baked goods by hand throughout the day to ensure freshness.  Online orders for delivery are made that day, guaranteed.
IS EVERYTHING 100% PLANT-BASED (VEGAN, DAIRY-FREE, AND EGG-FREE)?
YES, and always will be! Even our sugar, gummie bears and other candy is vegan.  This is as true for baked goods delivered in Richmond Hill as it is for all of our products in store!
IS EVERYTHING 100% GLUTEN-FREE?
YES, and always will be!
WHAT DO YOU USE TO SWEETEN YOUR BAKED GOODS?
We use raw organic sugar, evaporated cane juice, vegan powdered sugar, and coconut sugar throughout the bakery. We also use bananas and maple syrup and apple sauce.
DO YOU HAVE ANY 'CANE SUGAR FREE' TREATS?
Yes we do! We offer our Skinny Cookies, sweetened with roasted bananas and a pinch of coconut sugar.
ARE YOU PEANUT-FREE AND NUT-FREE?
Yes, we are 100% Peanut-Free facility and none of our ingredients contain peanuts. We are also a 100% Nut-Free facility with a disclaimer (please read on...) that all of our gluten-free flours are processed on equipment that also processes hazelnuts, almonds, and soy. We use Bob's Red Mill flours and they, "power wash their machinery and discard the initial 30 pounds of flour between runs to do their best to eliminate contamination".
We advise you to consume at your own discretion.
WHAT KIND OF FLOURS DO YOU USE?
We use garbanzo, fava bean and sorghum flour as primarily, our main flour of choice from Bob's Red Mill.
DO YOU USE ANY ARTIFICIAL FOOD COLOURING?
Nope. We never will. We use only the best natural colours and we bring them in from California. We know and fully understand the dangers of artificial colours. Artificial food colouring causes brain damage. Artificial colours hurt children and their neurological growth causing irritably and hyperactivity and loss of brain cells. We can do without it. Our kids are that important.
DO OATS HAVE WHEAT IN THEM?
Oats themselves are completely gluten-free and wheat-free. However, in the processing of some manufacturer's oats, they may come into contact with wheat. We make sure our oats are free of wheat and we bring our oats from Bob's Red Mill. They are 100% wheat-free and gluten-free. You can breathe a sigh of relief!
ARE YOU GRAIN-FREE?
No, the majority of our baked goods contain grain. We use grains such as oats, sorghum and rice.
ARE YOU SOY FREE?
We are almost 100% soy-free….Only our ice cream and a couple of toppings contains soy.
HOW MANY CALORIES ARE IN YOUR CUPCAKES, BROWNIES, CAKES AND COOKIES?
Our baked goods are very nutritionally dense as we use the finest whole bean flours, organic sugars and natural vegetable ingredients and fruit purees. The calorie count is quite similar to that of conventional baked goods. However, the quality of the ingredients is far superior which can keep you eating less. Click here for our nutritional guide.
ARE YOUR PRODUCTS HEALTHY?
Yes, we call them the "healthier" option! We use protein and fibre rich ingredients that you can feel good about eating and giving to your favourite people. Some of our amazing ingredients we use are garbanzo and fava bean flour (rich in fibre and protein), sweet potato puree (high in beta-carotene), coconut milk (great for your digestive system), apple sauce (natural sweetener) and organic coconut sugar (rich in trace minerals).
CAN I ORDER A CUSTOM CAKE?
We don't offer custom cakes at the shoppe, however, we do offer our Mile High Brownie Cake which is available for pre-order, by visiting our ordering page.
HOW DO I CARE FOR MY DELIVERED BAKED GOODS?
Best not to refrigerate. Keep at room temperature for the day of eating or freeze for a later date..
DO YOU HAVE GIFT CARDS? HOW DO I BUY THEM?
You can purchase them in our store or ONLINE HERE. We offer gift cards in any denomination. You're welcome to come into the bake shoppe to purchase one or if you live out of town and want to send a gift card, have it arrive in their inbox! It's simple to order one online! Order gift cards online here.
WHO FOUNDED KELLY'S BAKE SHOPPE?
The founders and owners of Kelly's Bake Shoppe are Kelly Childs and Erinn Weatherbie, who are Mother and Daughter. Kelly's Bake Shoppe is such a big part of their lives, and they're so excited to grow the Bake Shoppe to make it a household name.
HOW MANY AWARDS HAVE YOU WON?
We've been fortunate enough to have won many awards for our products and services around the world.
Best Vegan Dessert in the GTA for 4 years – Mile High Brownie and Dulce De Leche Cupcake
We've been given the Certificate of Excellence from Trip Advisor since 2012 till present day.
Awarded BEST Bakery, BEST Cupcakes and BEST DESSERTS for all of Burlington, since the day we opened in 2012.
Our incredible customer service, delicious ice cream, exemplary atmosphere and Pilot coffee service have been awarded the Diamond Award from the Burlington Reader's Choice awards since 2012. Thank you!!!
We've been recognized by BUZZFEED and it's followers as #3 on the list – "Top 25 Cupcake Shoppes In The World to Visit Before You Die!" – What a Bucket List to be a part of!
WHAT DO YOUR CUSTOMERS SAY?
You can read our google reviews below!